Lewis & Munday, P.C. Participates in the UNCF 30th Anniversary Detroit 5K Walk for Education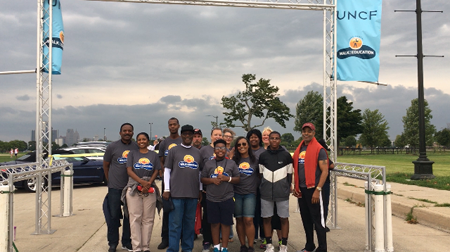 September 4, 2018

DETROIT — Lewis & Munday, P.C. participated in the United Negro College Fund (UNCF) 30th Anniversary Detroit 5K Walk for Education, which took place at the Belle Isle Casino in Detroit on Saturday, August 25, 2018. This 5K walk was a broad-based community fundraising event dedicated to achieving equal access to higher education for African American students.

Lewis & Munday was part of a fundraising team led by Alison Nelson, Managing Counsel at Ford Motor Company, that raised an impressive $75,075 for this extraordinary cause. Despite the rain, the team accomplished its goal of helping raise funds to ensure equal access to collegiate education and we thank everyone on our team who braved the weather to be involved in this worthy cause. Members of the Firm who participated in the event included: David Cross, Deborah Crossley, Jelani Karamoko, Samuel McCargo, Michelle Plesky, Heather Savitskie, Ronda Tate Truvillion and Kim Wade.

Thirty-seven historically black colleges and universities belong to the UNCF network of member institutions. UNCF provides these colleges and universities with a range of support that enables them to keep their academic programs strong and their tuitions affordable. As a result of this support, member institutions educate more than 60,000 students each year and have produced more than 450,000 graduates with the help of UNCF.

If you wish to donate to the UNCF, please click here.
Lewis & Munday, P.C. was established in 1972 by African Americans and is one of the oldest minority founded law firms in the country. The Firm has a full-service practice that includes employment litigation, insurance defense, business law, real estate law, bond and municipal law, etc. The Firm's clientele includes businesses, governmental agencies and entrepreneurs. Headquartered in Detroit, the Firm has three other offices in New York, NY, Washington, D.C. and Glastonbury, CT.